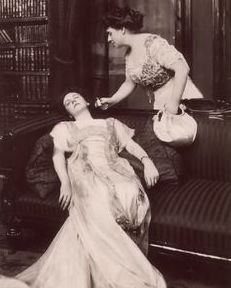 Recently, I had the privilege to join with others in praying for a friend who leaving for a distant country to volunteer at a conference for women missionaries in the Middle East. The purpose of the conference is to allow these women a respite from their daily labors, to bring refreshment and bless them spiritually, physically, and emotionally. (Check out Thrive Ministry.)
While we were praying the phrase "smelling salts" came into my mind and it seemed like such a perfect image for the effect of the presence of the life of Christ in a believer ministering to someone else in a difficult place.
According to Wikipedia, smelling salts (ammonium carbonate) have been used since Roman times and were widely used in Victorian Britain to revive fainting women. The salt was often dissolved with perfume in vinegar or alcohol, soaked onto a sponge, and then carried in a decorative container (Jane Austen anyone?).
God has designed an even more powerful remedy for his fainting children: the fragrance of the knowledge of Christ and the salt of His grace.
Now thanks be to God who always leads us in triumph in Christ, and through us diffuses the fragrance of His knowledge in every place. 2 Cor 2:14

Let your speech always be with grace, seasoned with salt, that you may know how you ought to answer each one. Col 4:6
Do you have a friend who is discouraged and ready to give up? Or do you feel that way yourself? Try this wonderful first aid: remind your friend or yourself of what you know about Christ, how out of love He suffered and died so that you could be free. And remember His free grace: unmerited favor, that does not depend on how good you are but how good He is!
Those victorian ladies knew how to take care of themselves and each other. And we have something better!