For the first time in our 43 years of married life, Michael and I have a back yard. Well, that's not completely true if you count a graveyard as a yard. Early on we lived as caretakers of a cemetery and looked out at a field of gravestones. But I never considered that ours…it belonged to the many waiting for resurrected bodies and the few that came to visit them.
Our new back yard isn't large, but it is a yard. After some work it now has grass and a little rock bed stream for leading away rain water when Oregon skies turn liquid for days on end. Scattered here and there are some plants and flowering bushes. But its most impressive feature is five ancient Oregon white oaks.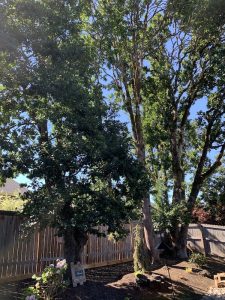 I've learned a lot about oaks in the nine months that we have been here…mostly that they are very messy, but also that they make lovely music when they catch the afternoon breeze in their lofty branches, and provide delightful shade on a warm afternoon. And most enchanting, their leaves dance in the sunshine, making intricate changing patterns of light and shadow on the brown surface below. I find that I never tire of listening to their music and watching their dance.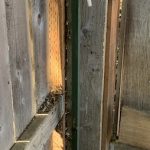 While we are new home owners, these trees are far from new. They may be over 100 years old. We had landscapers come to help clean up the back yard when we first moved in and they discovered a coil of barbed wire in one corner. In the other corner is a green metal post, another remnant of the old fence. These trees once marked the edge of someone's field. Often, when I sit outside in the afternoon, I can hear cows lowing in the distance. Only a short distance from us, land is still being farmed, like our yard must have been not too long ago.
I think this is the first time I have ever felt what it must mean to love a piece of land…to want to nourish it and see it prosper. We fret over the plants that aren't doing well, and grieve for the bushes with sun burned leaves from the recent 117 degree heat wave. These are new feelings I haven't experienced before, and today as I pondered the trees, a fragment of scripture came to my mind "each one under his fig tree."
I looked this up and found the expression first used in 1 Kings 4 to describe the peace produced during Solomon's wise reign:
And Judah and Israel lived in safety, from Dan even to Beersheba, every man under his vine and under his fig tree, all the days of Solomon. 1 Kings 4:25
Two different prophets used this same phrase to describe the peace of God's final kingdom. In Micah 4, it is the culmination of a great apocalyptic vision when, after beating their swords into plowshares,
They shall sit every man under his vine and under his fig tree, and no one shall make them afraid. Micah 4:4
It appears that the King of Assyria must have been familiar with this image of peace, because he tries to match Jehovah's promise in his confrontation with Hezekiah by offering the same to those who make peace with him:
Then each one of you will eat of his own vine, and each one of his own fig tree, and each one of you will drink the water of his own cistern. Isaiah 36:16 and 2 Kings 18:31
The prophet Zechariah records the message of the angel of the Lord to Zerubbabel that God will remove the iniquity of the land in a single day and in that day:
Every one of you will invite his neighbor to come under his vine and under his fig tree. Zech 3:10
I love to think of every person in the new Jerusalem having their own vine and fig tree and inviting neighbors to come and enjoy. I think Jesus loved these images also as his parables and stories are interwoven with vines and trees and promises of fruitfulness.
In researching this phrase, I discovered that this phase was a favorite of one of America's founding fathers. George Washington used it over 50 times in speeches and letters to represent his hope for the people of the new nation.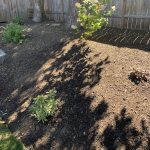 So if you don't have a vine and fig tree yet, don't fret! There's one in the future of every adopted son and daughter of the King…a place of peace and enjoyment of a heavenly vine and a wine that far surpasses anything we have every known.
And if you'd rather sit under an oak tree, come visit! Our door is open and the leaves will be dancing in the afternoon sun.