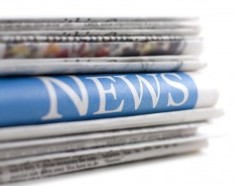 Recently I was asked where I look for trustworthy news. The answer is, "it's complicated." A single reliable source for news is not really possible now and it requires work and reviewing multiple articles to develop a robust picture of what's going on in the world. That being said, I do have my favorite "go to" places on the Internet, and here are some of them.
World News
BBC news covers much more international news than any domestic news sources, which I find  woefully circumscribed in scope. I subscribe to BBC Africa, which has especially wide-ranging coverage of this vast continent.
news.google.com provides a customizable listing of headlines that is a great way to scan topics in areas and countries that interest you. Google has a default layout, but at the bottom of the section list on the left-hand side is a link for managing sections.
You can hide default sections you aren't interested in.
You can also specify your own interests, which Google uses as search strings for displaying headlines. Some of my interests are Ethiopia, Liberia, Tanzania, Saudi Arabia, and Arab Gulf.
Finally you can specify sources to search first and sources to block (I block the ones that require subscriptions to see articles or that I know are untrustworthy).
Al Jazeera provides a different perspective on news and they do some really interesting in-depth articles on topics.
Christian News
For the persecuted church, I subscribe to World Watch Monitor.
The Christian Post provides a good summary of events of interest to Christians in different areas of culture, politics, and US and world news. The articles are not deep analysis, but useful overviews.
For general Christian news, I love Tim Challies blog where he daily finds interesting articles and low-priced Kindle deals, as well as writing his own articles. I also subscribe to The Gospel Coalition. I enjoy their articles and respect their opinions on wide-ranging topics from news to Christian doctrine to movies to book reviews.
Facebook
Yes, Facebook can be a big time waster, but there are ways to filter out time wasters. I follow a number of individuals who post links and updates that are important to me. For example, Norine Brunson, Andrew Brunson's wife, often posts updates before the news sources do.
And Just for Fun…
The Babylon Bee is my go to resource when I need a laugh. Some of the articles fall flat, but some of them are really funny. You don't need to read the article; the headline is enough, like this one posted during the romaine lettuce scare.