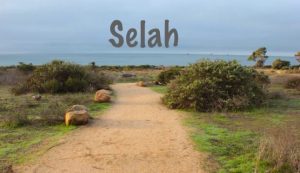 We thought it might be a few weeks, now it seems like it may be a few months, or even longer. The world has slowed down, stopped. Highway 101 near our home is almost empty. Even the parks, once full of moms and kids, are now empty. Recently I had the path on the ocean bluffs all to myself, something I have never experienced before.
Scientists even say that the earth itself is moving less now that people have stopped rushing to and fro to stores and work.
It is a Selah moment. This mysterious word that occurs 71 times in the Psalms now governs our life. Strong's Lexicon defines Selah as "a technical musical term probably showing accentuation, pause, interruption." It is derived from similar Hebrew word meaning balance. So by extension we have "a pause that brings balance."
Was our life out of balance before the pandemic? Could this be a pause to bring correction? A realignment of our actions and thinking?
Selah has been variously translated "Stop and think about that" and in The Passion Translation, "Pause in His presence."
Having time to stop and think about it and pause in His presence, I looked up all the occurrences of the word Selah in Psalms. Then I categorized the verses based on general topics in an effort to find the primary things that God wants us to stop and think about. This is what I discovered:
11 verses are about the actions of evil men, how they think, what they say, and the consequences of evil. Many there be which say of my soul, there is no help for him in God. Selah. Psalm 3:2
19 verses are about various aspects of God's goodness: how he blesses his people, redeems them, saves them, forgives them, shows himself faithful, and provides a refuge in the time of trouble. You are a hiding place for me; you preserve me from trouble;  you surround me with shouts of deliverance.  Selah. Psalm 32:7
21 verses are concerned with God's sovereignty and righteous judgement, which has two aspects: protecting and establishing righteousness and punishing and destroying wickedness. Let the nations be glad and sing for joy, for you judge the peoples with equity and guide the nations upon earth. Selah. Psalm 67:4
11 verses deal with prayer, how God delivers and answers when we cry out to him. I cried aloud to the Lord, and he answered me from his holy hill.  Selah. Psalm 3:4
9 verses exalt God, 5 verses with words of praise and adoration and 4 by describing the glories of Zion where God's people will be with Him and see His glory. In God we have boasted continually, and we will give thanks to your name forever.  Selah. Psalm 44:8
So in this unprecedented moment of pause where we are being inundated with bad news and fear, let's take time to refocus on what the Psalmist has asked us to "stop and think about." God is good, his judgements are righteous, he will deal with evil, he hears us when we cry out to him, and no matter what is happening around us, he is worthy of worship.
One day we will be in his presence in the New Jerusalem, the true City of God, where every tear will be wiped away.
(Note: If you would like to see the full list of verses categorized, you can find it here.)