Encouragement for Intercessors: new depth in a familiar story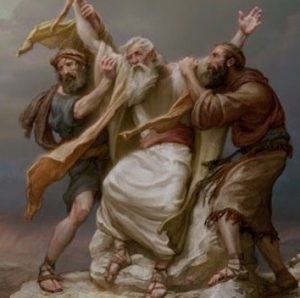 Then Amalek came and fought with Israel at Rephidim. So Moses said to Joshua, "Choose for us men, and go out and fight with Amalek. Tomorrow I will stand on the top of the hill with the staff of God in my hand." So Joshua did as Moses told him, and fought with Amalek, while Moses, Aaron, and Hur went up to the top of the hill. Whenever Moses held up his hand, Israel prevailed, and whenever he lowered his hand, Amalek prevailed. 12 But Moses' hands grew weary, so they took a stone and put it under him, and he sat on it, while Aaron and Hur held up his hands, one on one side, and the other on the other side. So his hands were steady until the going down of the sun.  And Joshua overwhelmed Amalek and his people with the sword. Then the LORD said to Moses, "Write this as a memorial in a book and recite it in the ears of Joshua, that I will utterly blot out the memory of Amalek from under heaven."  And Moses built an altar and called the name of it, The LORD Is My Banner, saying, "A hand upon the throne of the LORD! The LORD will have war with Amalek from generation to generation." Israel Defeats Amalek, Exodus 17:8-16, ESV Version
A hand upon the throne of the Lord
This story is rich with truth for those of us who believe in the power of prayer. First, it is a classic picture of the power of intercession. Moses, by extending his staff, was extending the authority of the God of Heaven's Armies over the battle being waged between Israel and her enemy. We see in this story an example of the precious privilege of the intercessor to participate in distant battles through prayer, reminding God of his power and promises, and as Christians, applying the power of the cross to the difficult situations facing friends and families. But this story also illustrates the human weakness of the intercessor  through the weariness of Moses's arms.  How wonderfully sustaining is the presence of praying friends at this point. How gracious of God not to send Moses into this spiritual battle by himself, but to provide two friends to support and strengthen him and hold him up. This story teaches clearly not to underestimate the importance of prayer partners and building unity in prayer! It also demonstrates the great leveling power of the cross: those who supported Moses were equally as important in winning the battle as their appointed leader. This story is also familiar because it introduces the use of  one of God's precious revealed names: Jehovah Nisi (The Lord My Banner), used only in this story. Nes (nês), from which Nissi is derived, means "banner" in Hebrew. Nes is sometimes translated as a pole with an insignia attached. In battle, opposing nations would fly their own flag on a pole at each of their respective front lines to give their soldiers a feeling of hope and a focal point. This is what God's promises are to us in prayer: a banner of encouragement to give us hope and a focal point. But it was only today when reading this passage in the ESV translation that I came upon this wonderful phrase that Moses used to describe Jehovah Nissi:
And Moses built an altar and called the name of it, The LORD Is My Banner, saying, "A hand upon the throne of the LORD!"
"A hand upon the throne of the Lord"  is the literal meaning of the words translated in the King James, "because the Lord has sworn." These words convey an amazing picture. What we would have seen if we were on that mountain was Moses standing (then sitting) with his hand extended, holding a physical staff. What was actually happening if we could see in the Spirit was that Moses's hand was touching the throne of God, and through his faith, all God's power and authority was pulsing through that connection. What a glorious intimate picture this is of our access to God, an access that Jesus as our High Priest has opened up to us on this side of the cross in even more powerful ways.
For we do not have a High Priest who cannot sympathize with our weaknesses, but was in all points tempted as we are, yet without sin. Let us therefore come boldly to the throne of grace, that we may obtain mercy and find grace to help in time of need. Hebrews 4:15-16