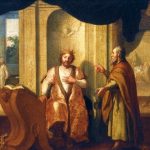 This year I am following the Bible Project reading plan and this morning read 2 Samuel 8 where King David is solidifying his administration and appointing court officials. Most are what you might expect in an ancient kingdom: the general over his army, the men over his personal bodyguard, the priests, and a scribe.
But one seemed a little unusual: Jehoshaphat the son of Ahilud was described as Recorder (2 Sam 8:15). What was the difference between the recorder (mazkir, derived from zakar, to remember) and the scribe (from capar, to number or declare)? Was Jehoshaphat the court historian, as the NLT translates the office?
Zakar, the root of the word used,  has a rich context in the Old Testament. The first occurrence is in Gen. 8:1 when God remembered Noah and from there it is often used in respect to God's covenant promises and followed by His action to fulfill His covenant.
God said to Noah: "And I will remember my covenant … ; and the waters shall no more become a flood to destroy all flesh." Gen. 9:15
 "God remembered Abraham, and brought Lot out of the catastrophe …" (Gen. 19:29, NIV).
"And I have also heard the groaning of the children of Israel, … and I have remembered my covenant.… and I will bring you out from under the burdens of the Egyptians …" (Exod. 6:5-6).
There is more to this word than a passive recording of events! Did David appoint Jehoshaphat to remind him of the promises he made in his relationships with people and make sure he followed through?
If so, he is doing exactly what God has done.  In Isaiah 62:6-7 God says: "On your walls, O Jerusalem, I have appointed watchmen; all day and all night they will never keep silent. You who remind (zakar) the Lord, take no rest for yourselves; and give Him no rest until He establishes and makes Jerusalem a praise in the earth."
You who remind is one word: Remembrancers.
Does God forget and therefore need to be reminded? Of course not! But He does seem to delight in us remembering His promises and reminding Him of them with expectation of fulfillment.
I love this picture of intercession and am glad that David, a man after God's own heart, saw the need to have a Remembrancer in his court. God is inviting many to fulfill the office of Remembrancer around the throne of Jesus our King!